In this article
What you can transcribe with Colibri
Colibri allows you to record and automatically transcribe meetings across different video-conferencing apps and not just that:
1. Zoom meetings
Colibri is tightly integrated with Zoom. You can install the Colibri app for Zoom from the Zoom App Marketplace. Learn more about the app here.
2. Meetings, webinars, or any other audio from any web page in Chrome
You can use Colibri with any video conferencing or streaming platform that works in the Chrome browser. Learn more here

Google Meet
Whereby
YouTube
Outreach, AirCall, etc.
and more
3. Meetings in any native app (only on Windows)
If you're a Windows user, you can transcribe any audio that plays on your computer: either in your browser or a native Windows application. Learn more here
Microsoft Teams
Skype
Slack
Zoom
and more
4. Your microphone audio
You can record and transcribe audio using a microphone on your computer or mobile device. Get started here
5. Upload an audio or video file
You can use Colibri to transcribe an audio or video file. Learn more here
Create your first meeting agenda
To maximize the effectiveness of every meeting you can create meeting agendas and templates right in Colibri.
Go to the Agendas page and click + New agenda
Add a meeting title, meeting details (optional) and agenda items.
Add the meeting date and time. This way the right agenda will automatically appear at the top of the screen when you open the Colibri app during the meeting.
Click Create. The agenda will appear in the My agendas list.
For more details on how to create an agenda, check out this article.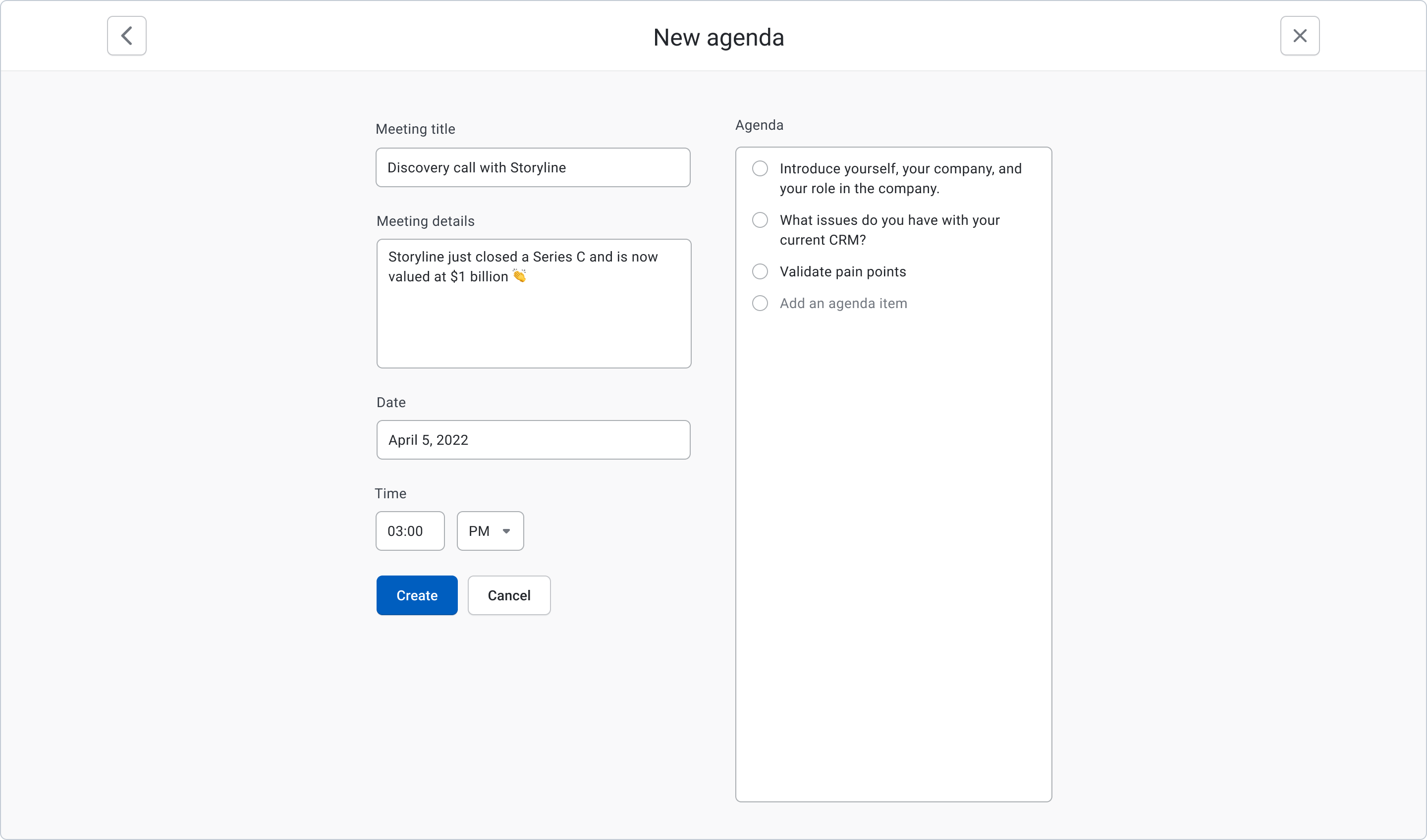 Use Colibri during the meeting
During the meeting, Colibri makes it incredibly easy to refer to your meeting agenda, take notes, and highlight important moments in the transcript.
How to start recording
Before the meeting starts, go to the Meetings page and click + New meeting
Choose what you want to transcribe
Provide all the details required to connect Colibri to your meeting
When the meeting starts, click Record or Connect
The Colibri in-meeting panel will open automatically.
Note: If the Colibri panel hasn't opened or if you've accidentally closed it, you can reopen it by clicking Live transcription in your Colibri workspace.
Navigate the Colibri panel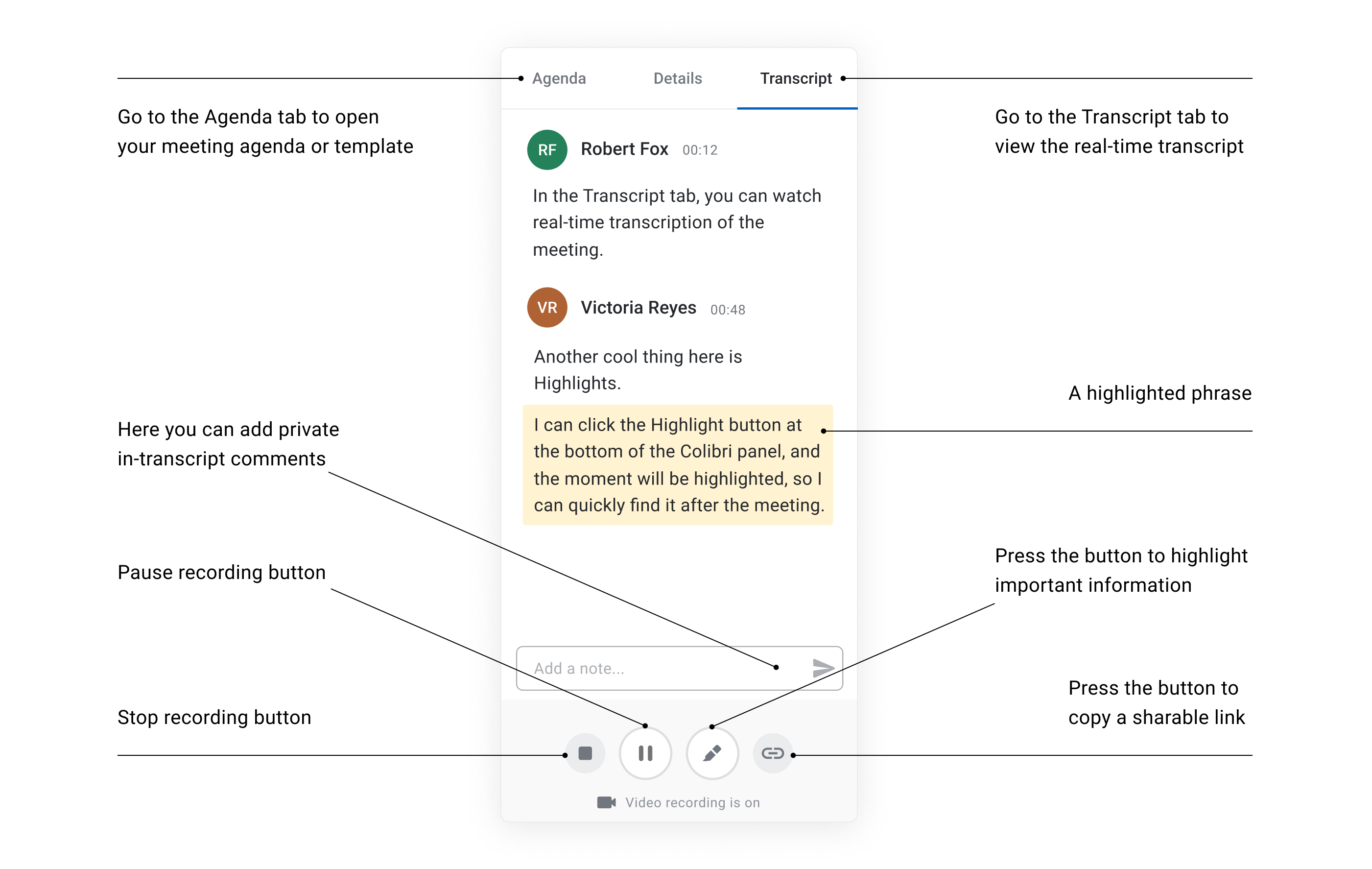 Use Colibri right in Zoom
If you use the Colibri app for Zoom, open Colibri right in Zoom during the meeting you are hosting:
1. Start your Zoom meeting
2. Click on the Apps button in the meeting toolbar and choose Colibri.
3. Click Start transcription, and you'll see the Colibri panel next to your meeting video.
Highlight key moments and add comments
Let's explore how you can highlight important information during the call.
When a participant says something important, just click the Highlighter button in the Colibri panel or say "Hey Colibri, take a note!", and the previous phrase will be highlighted and automatically added to your highlights summary.
You can also add private in-transcript comments, visible only to you.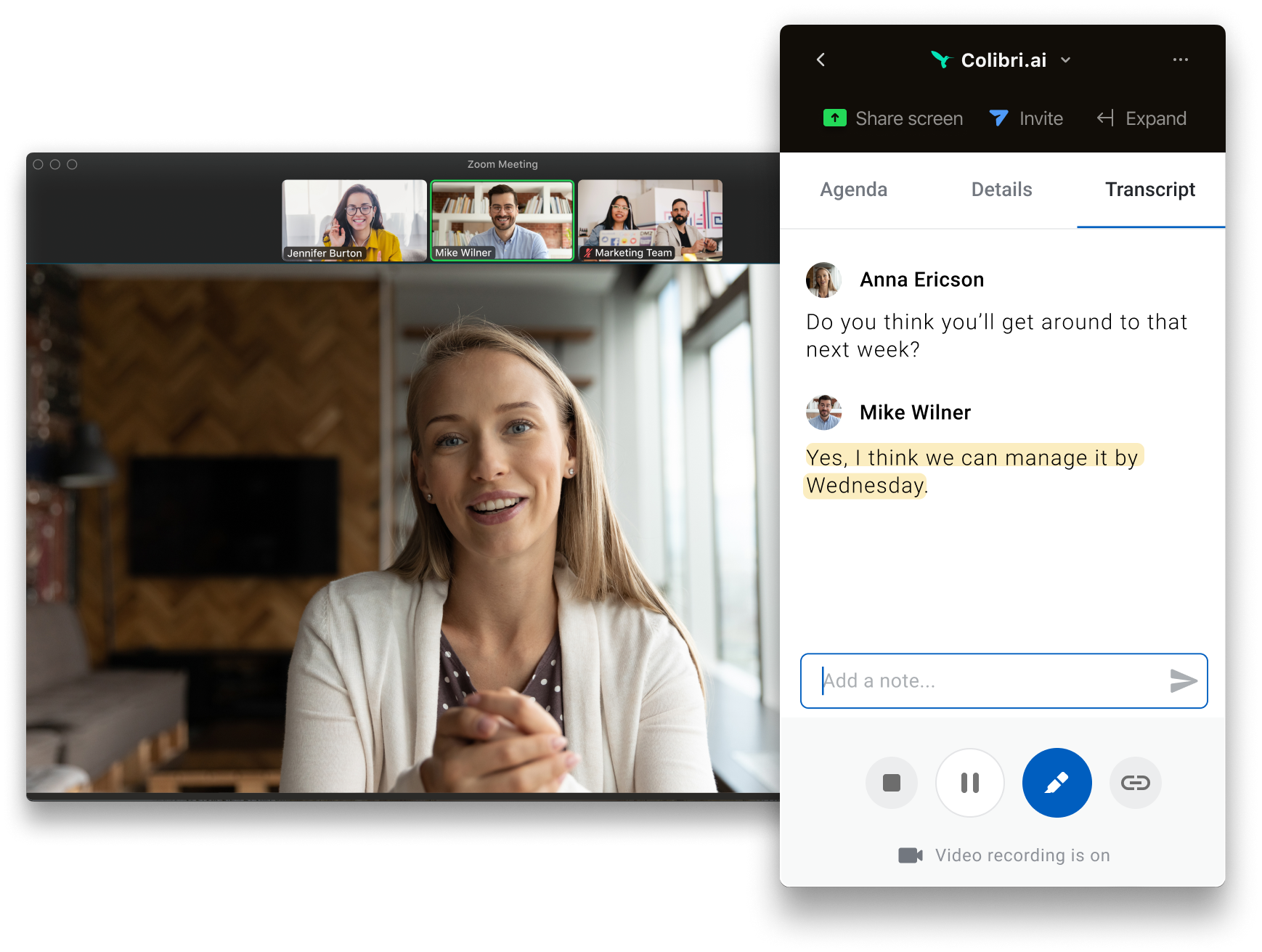 After the meeting
After the meeting, go to your Colibri workspace to review meeting highlights, edit, and share your notes with others.
Search your meeting library
You can search by a meeting title, company name, participants' names or just a keyword that was mentioned during the meeting.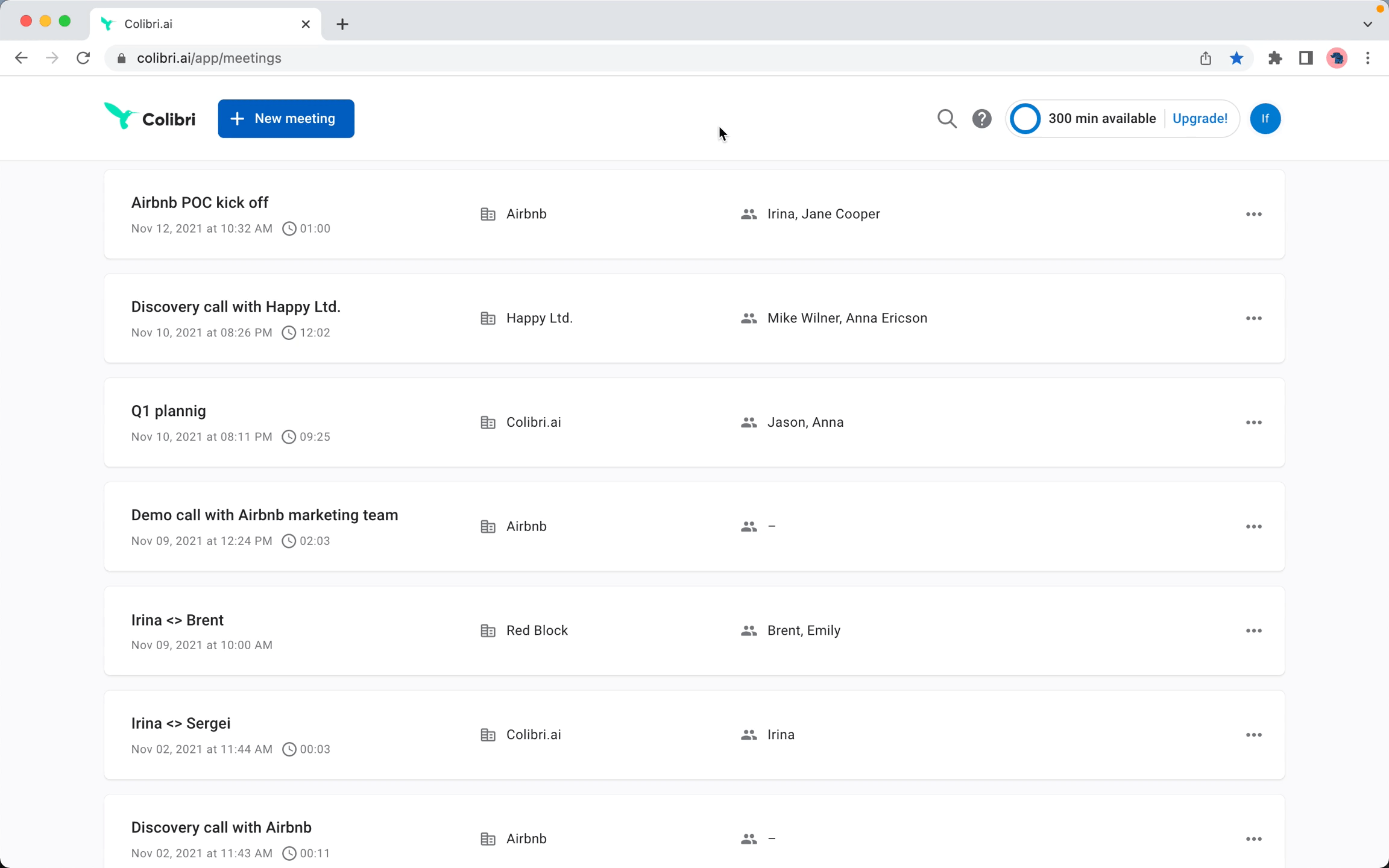 Review your meeting transcript and recording
Go to your Colibri workspace and select the conversation that you want to review.
Here is how a full meeting transcript synced to video recording looks like: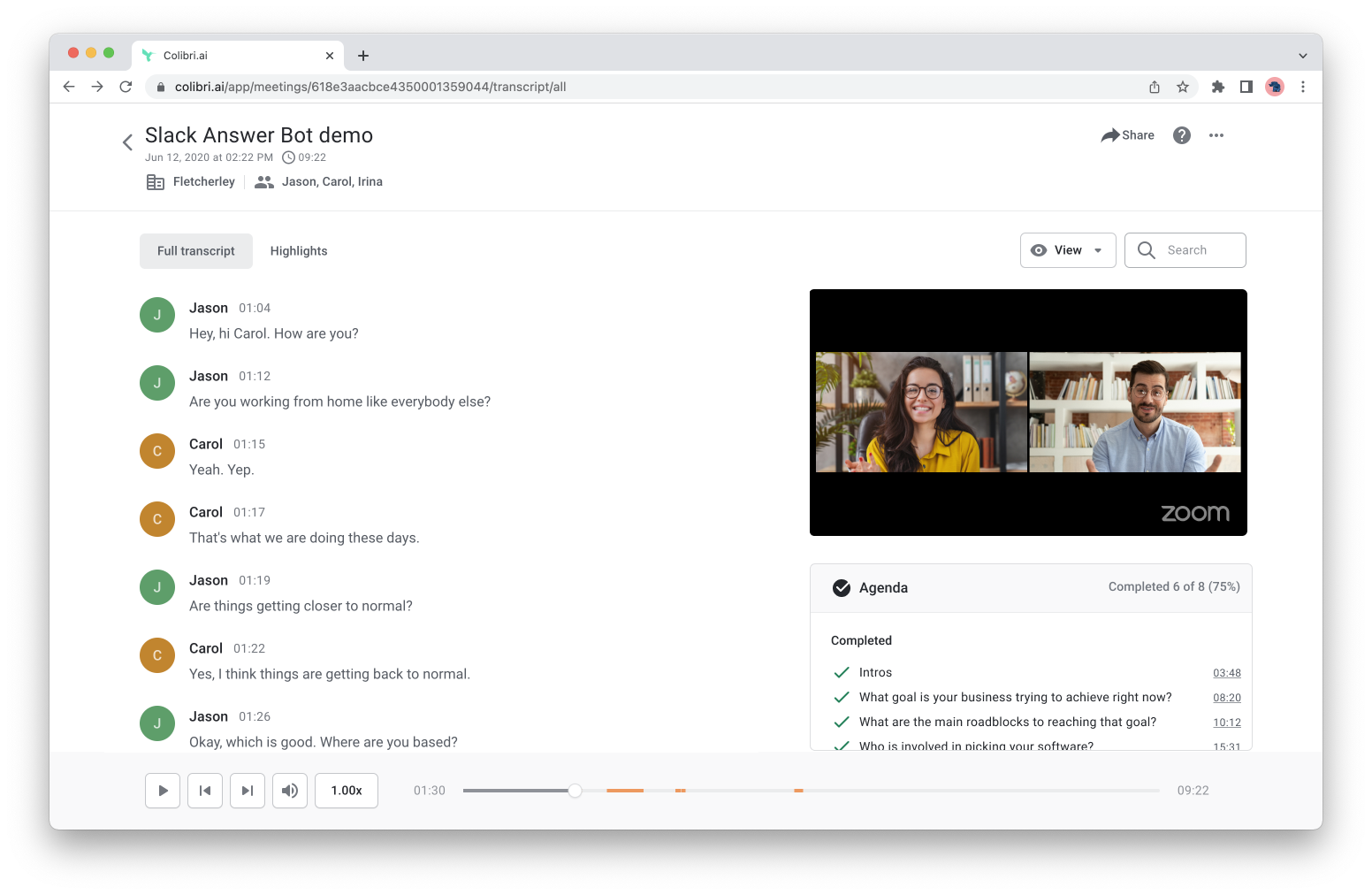 Review your meeting highlights
Go to the Highlights tab to read meeting highlights and comments.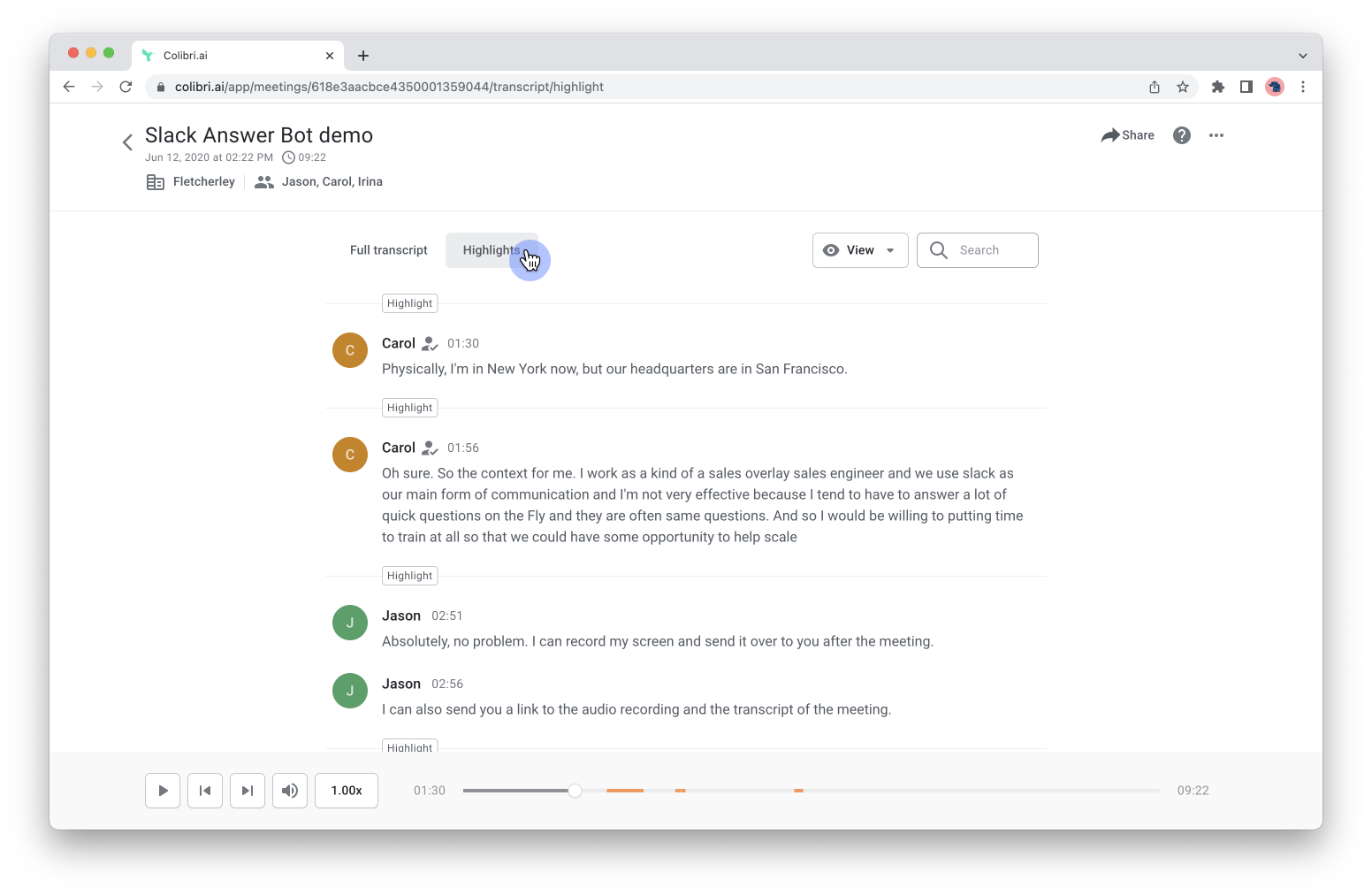 Add highlights
You can highlight new phrases or erase unnecessary highlights in the transcript.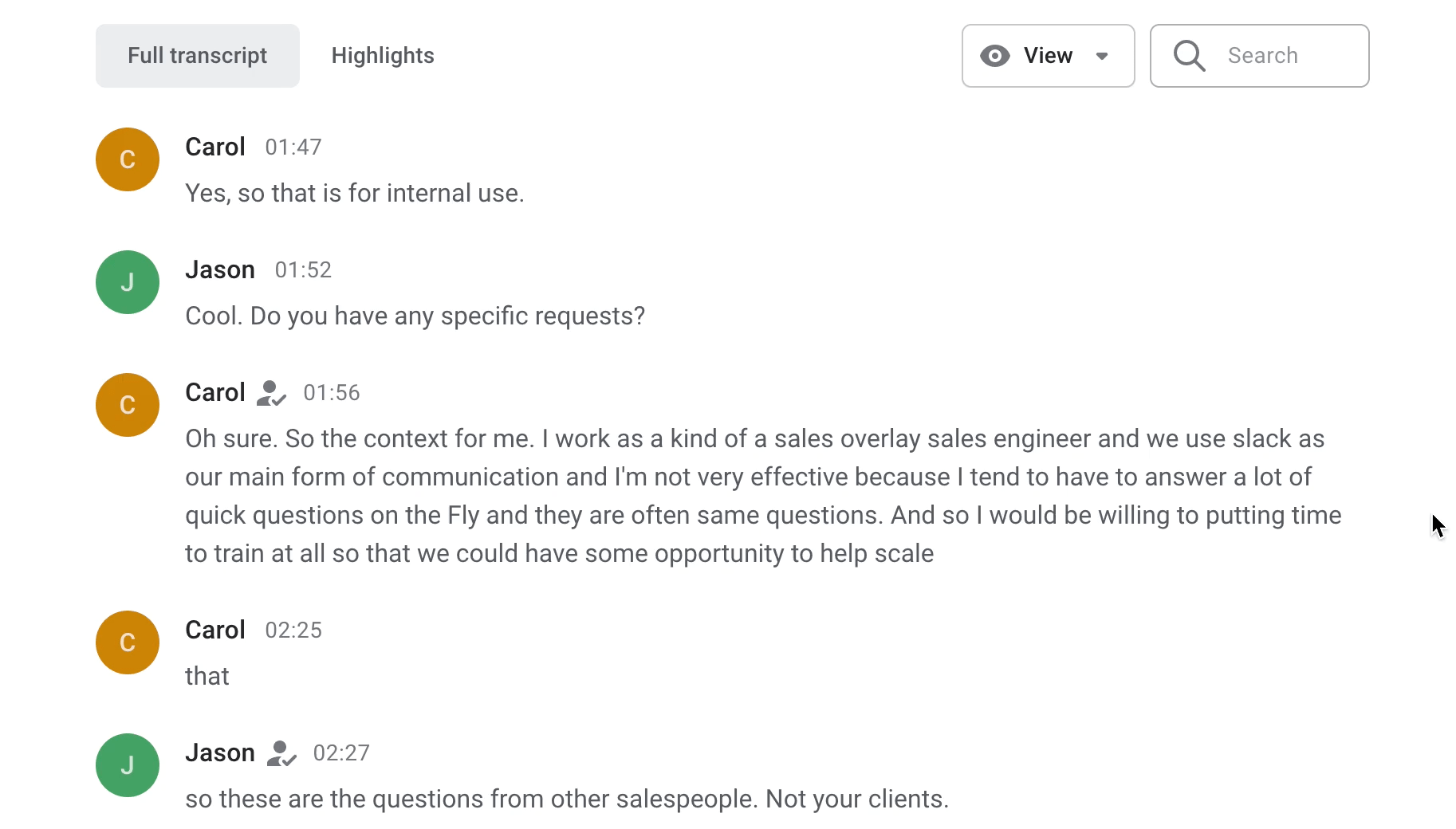 Edit the transcript
AI transcription and speaker identification is not perfect but you can correct transcription mistakes and adjust speaker labels before you share your transcripts with partners and colleagues. Learn more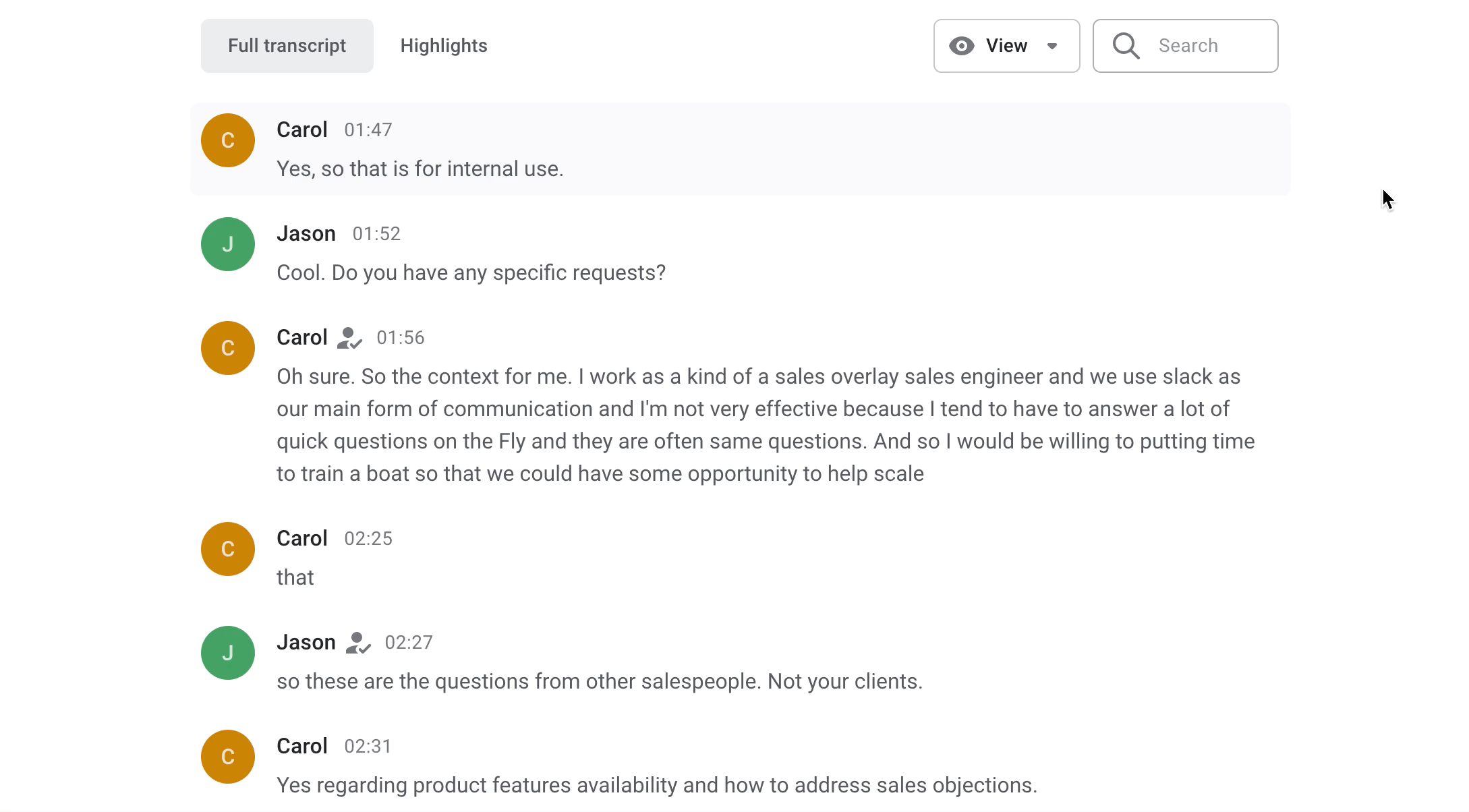 Edit meeting info
Add and edit meeting info in the header. You can edit the meeting title, participants' names, and the organization name.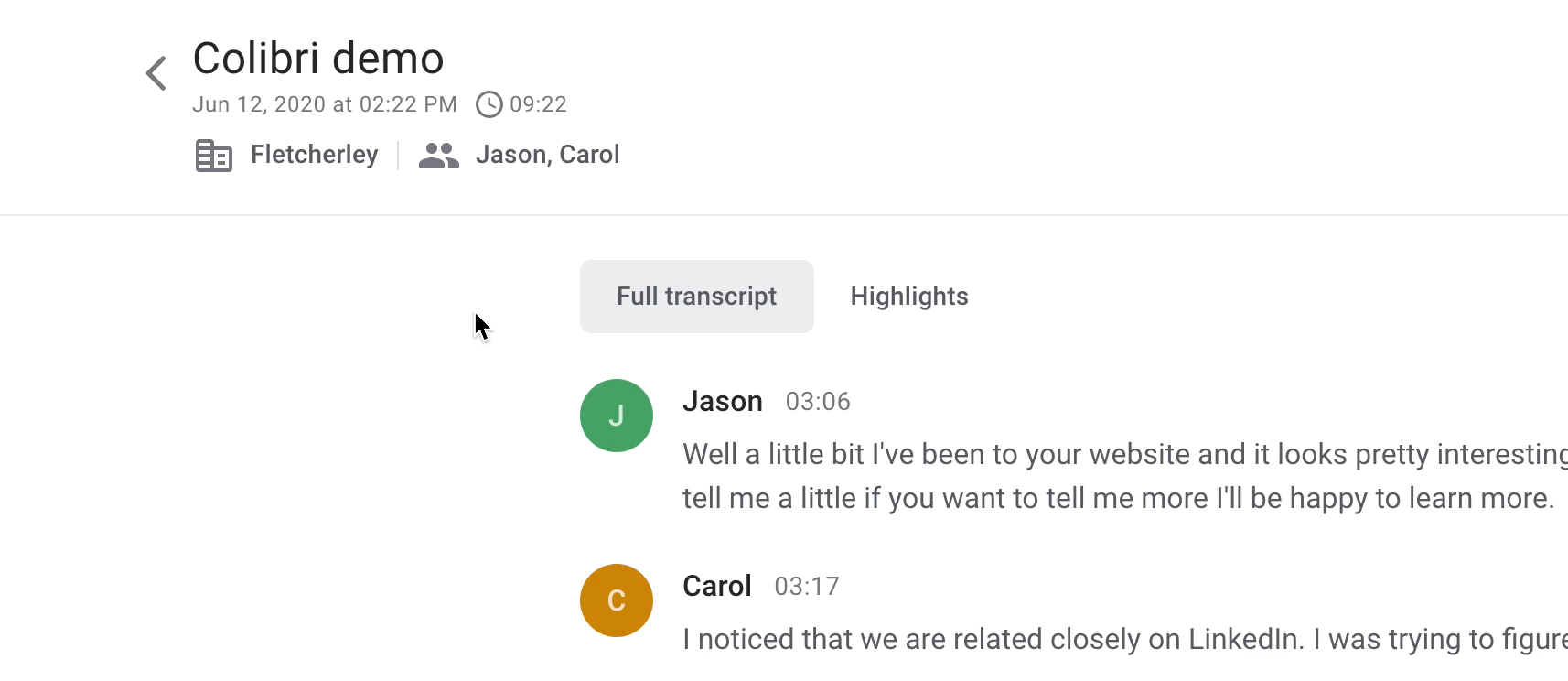 Share the transcript
Send a sharable link to other participants and to those who couldn't attend.
Viewers will be able to see the transcript and listen to the audio recording, but won't be able to edit the transcript and add highlights.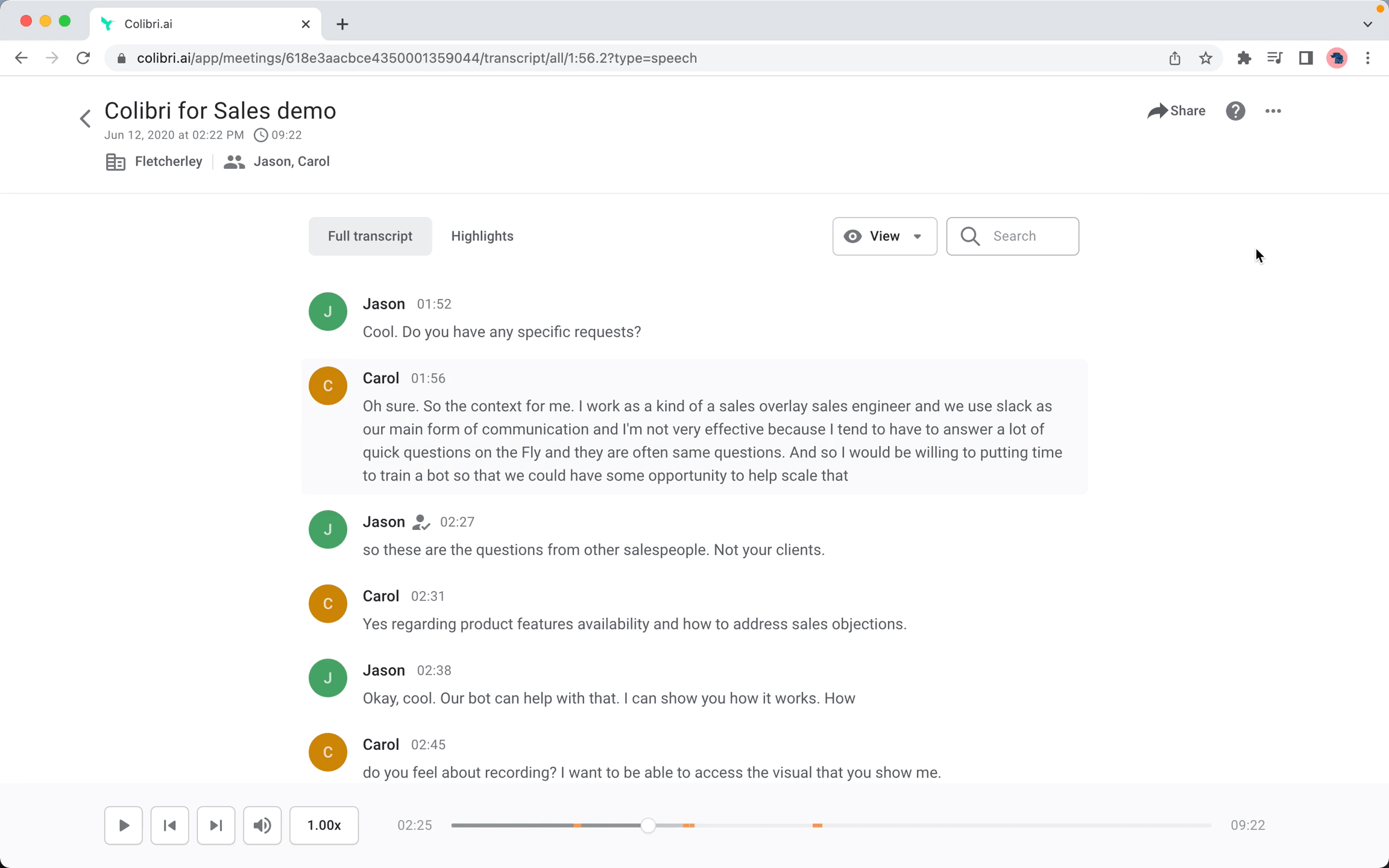 Export the transcript
You can also export your transcripts and highlights as a Word doc, PDF, or plain text, or copy and paste the text to Google docs, spreadsheets, email, etc.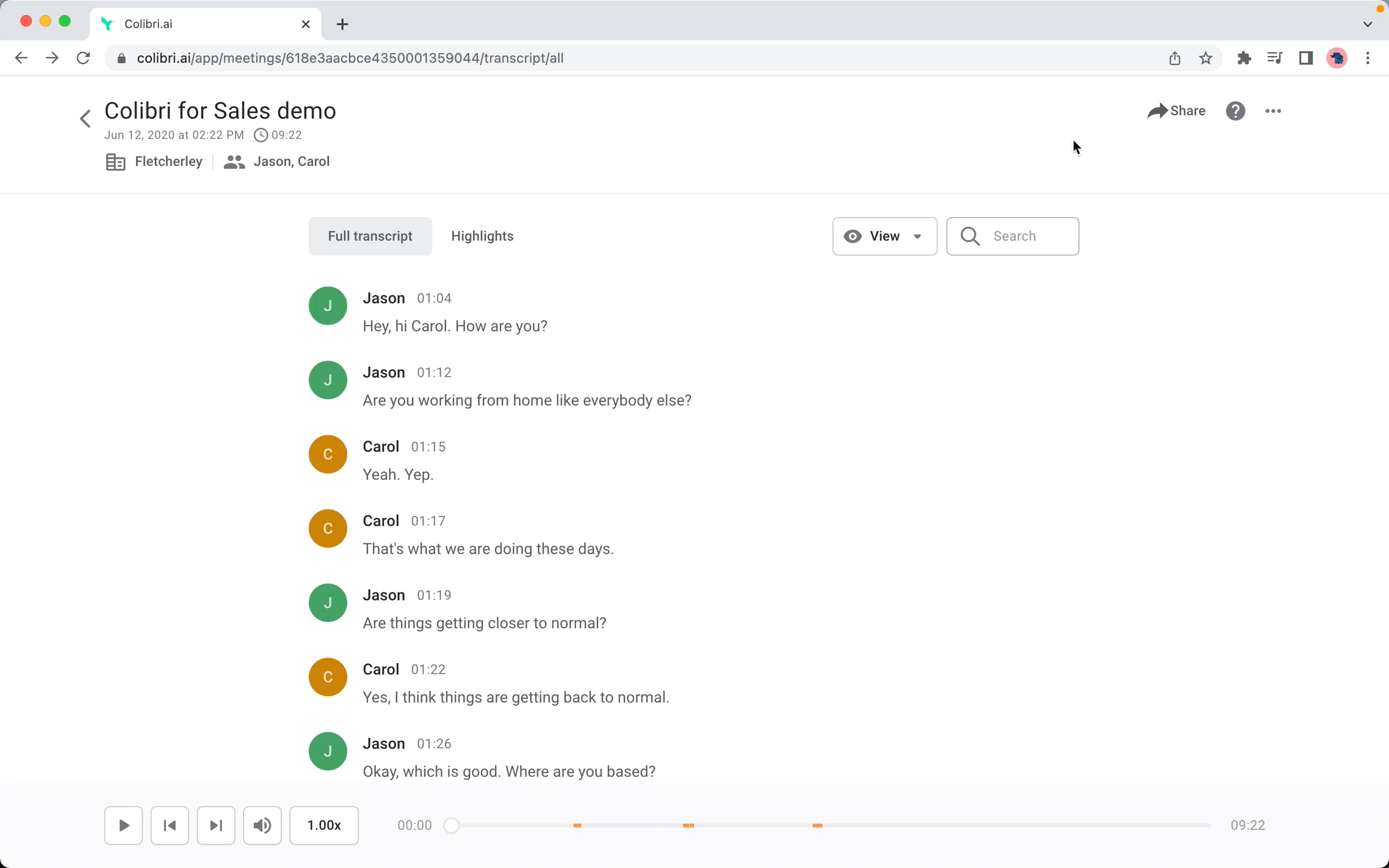 Multiple speaker identification
Assign speakers' names to better understand who said what during the meeting.
Learn more about automatic speaker identification here.
Share your feedback
We're trying to learn as much as possible from each person's experience, so please send us your questions, request new features, and report bugs to info@colibri.ai. We'll be happy to hear from you.
Thanks!
The Colibri Team