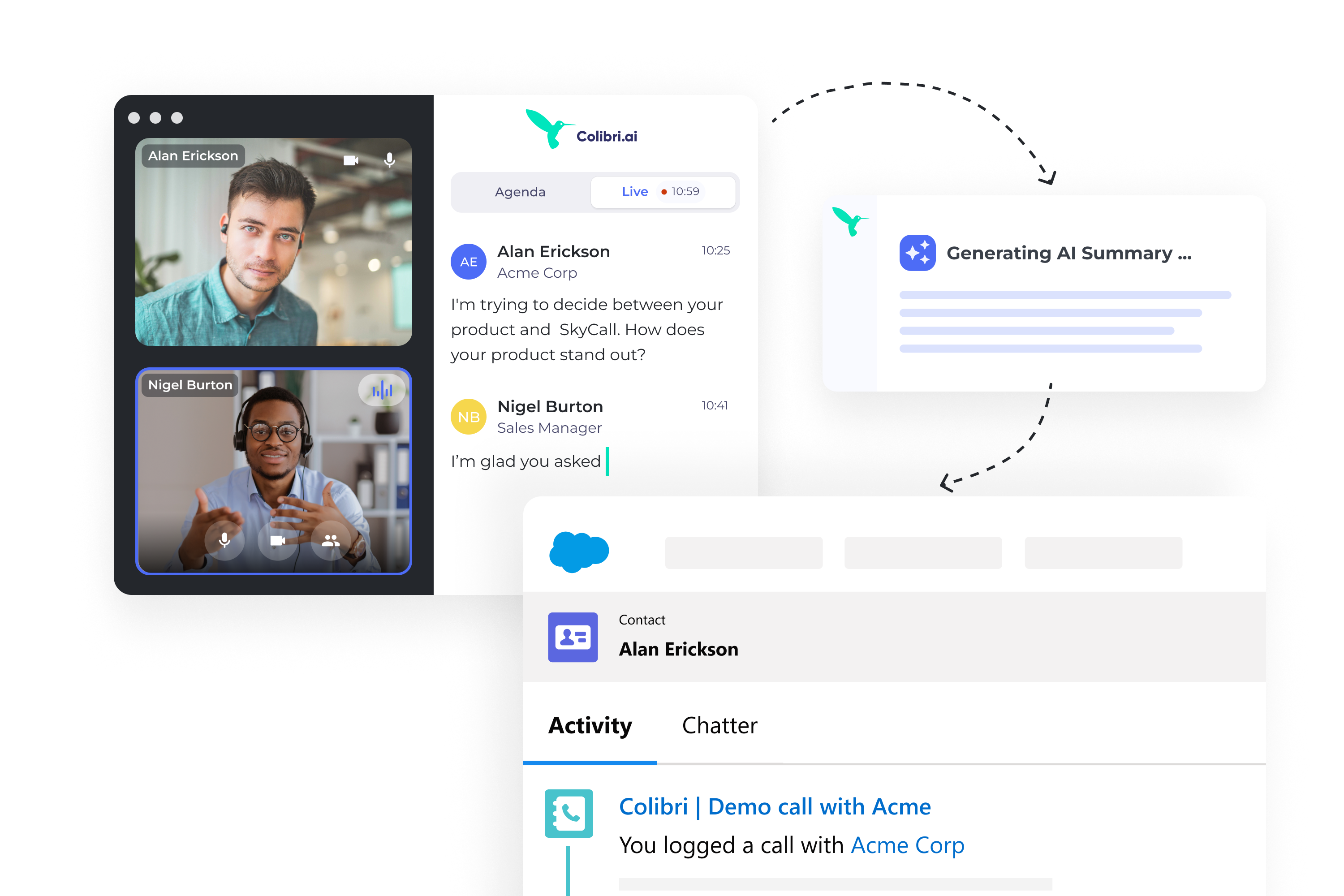 With the Colibri + Salesforce integration, you can automatically log calls and AI-generated meeting notes in Salesforce after each meeting.
Colibri is an AI co-pilot that records and transcribes your conversations in real time. After the meeting, it automatically generates a concise summary of the call, identifies next steps, and logs the AI-generated notes in Salesforce.
What you need to get started with the integration:
A Colibri Scale plan. View plans
An Enterprise or Unlimited edition of Salesforce.
Note: This integration is also available during the free trial period. Contact us at support@colibri.ai to get access to it.
Install Colibri package (Admin)
Note: You must have Salesforce Admin rights to install the Colibri package.
Connect your Colibri and Salesforce accounts
In Colibri, go to Settings > Integrations


Scroll down to Salesforce and click Connect to Salesforce
You may need to log into Salesforce at this point. Click Allow to authorize Colibri access to Salesforce
Your Colibri account is now connected to Salesforce.
Logging your calls in Salesforce
When a meeting is recorded or uploaded in Colibri, our system automatically generates a transcript and a meeting summary. Then the Colibri app for Salesforce automatically logs the call in Salesforce.
Colibri uses the attendees' names and the company name to find matching objects in Salesforce.
If there are matching objects in your CRM, Colibri logs the call in the relevant object (Contact/Lead/ Account/Opportunity).
If there are no matching objects in your CRM or if Colibri doesn't have information about the meeting participants and the company, an in-progress task will be created, so you can manually connect the call to the relevant object.
What information will be logged in Salesforce?
Call title: Calls logged by Colibri can be easily identified by the subject line, which always begins with 'Colibri | ...' and concludes with the title of the meeting.

Attendees' names: If you use the Colibri app for Zoom, Colibri automatically gets attendees' names from your Zoom meeting. If you use Colibri in Chrome, you can manually add names in Colibri.

Company name: If you enter the company name in Colibri, Colibri will send this information to Salesforce.
Link to meeting recording & transcript: The link leads to the meeting in Colibri. Only the meeting owner and people with Admin and Viewer rights from your Colibri team can view this information.
AI Summary: Colibri AI, working in tandem with ChatGPT, automatically generates a concise summary of your conversation after each meeting. You can find it in the description of the logged call.
AI-generated next steps (beta): If Colibri AI identifies action items in your conversation, you'll find them in the description of the logged call.
Where is the information logged in Salesforce?
In Salesforce, Colibri logs your calls in the Activity tab. If you do not have the Activity tab, please follow these instructions to add it:
Log into your Salesforce account

Go to the Company account

Click on Setup and select Edit Page

In the scrollable list on the left, click on Activities and drag and drop it on your Account view.
Have more questions? Contact us at support@colibri.ai.