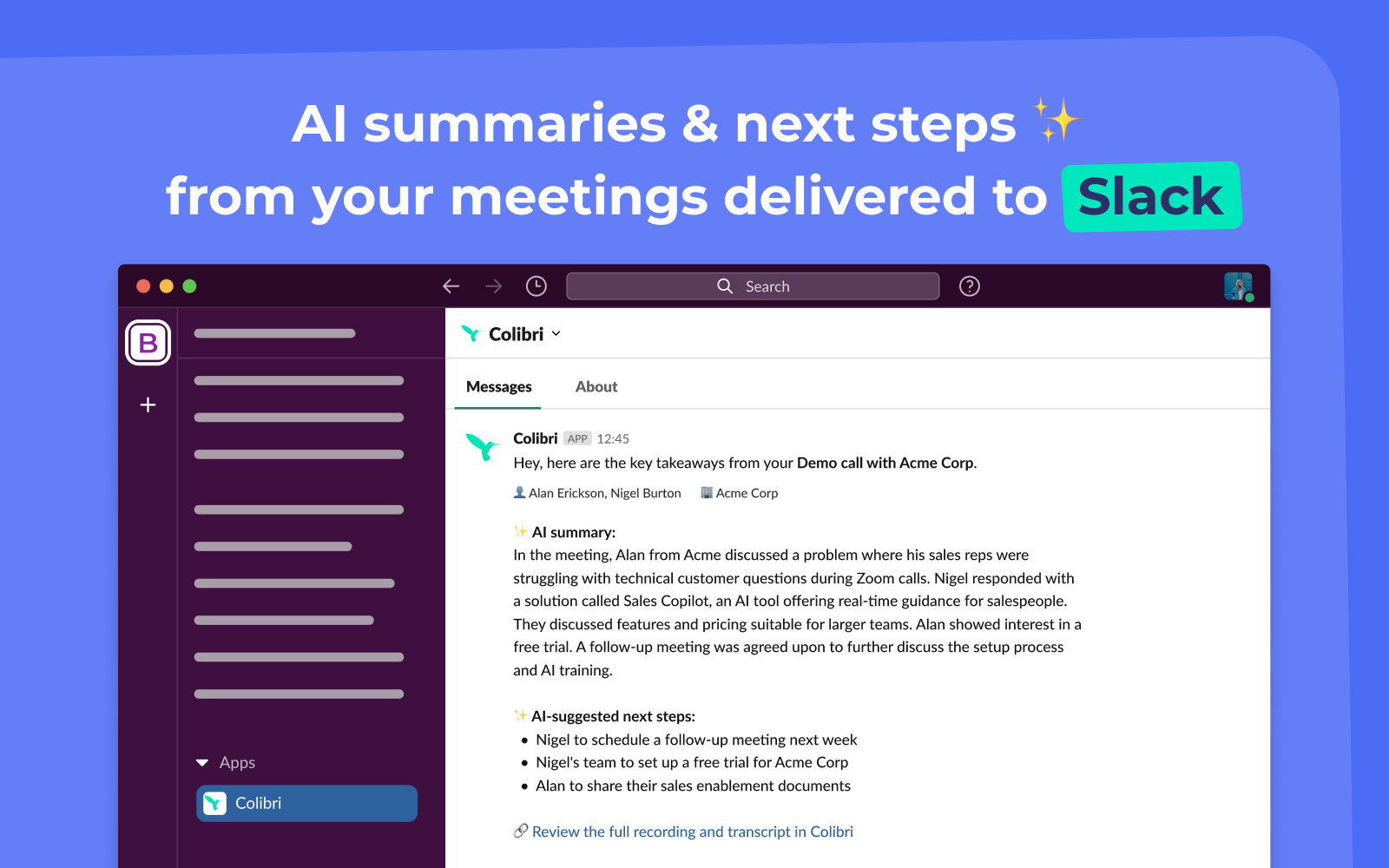 The Colibri app for Slack allows you to automatically send AI-powered meeting summaries and next steps to Slack after each meeting.
What you need
A Colibri Pro, Growth, or Scale plan. Also available during the free trial period.
A Slack account.
Note: If you've been using our previous Slack integration you'll need to re-install the upgraded Slack integration to get the new features.
Table of contents
Connect Colibri and Slack
Sign in

to your Colibri account in your browser.
Open the account menu in the upper right corner of the screen, and go to Settings > Integrations.


Scroll down to Slack and click the Add to Slack button.




You may need to log into Slack at this point. Click Allow to authorize Colibri to access your Slack workspace.



Note: If you received a message indicating that you are not authorized to install the Colibri app, please contact your admin and ask them to approve the Colibri app for your workspace. Instructions on how to request app approval can be found

here

.
Your Colibri account is now connected to Slack. Proceed to choose a channel as described in the next section.
Choose where you want to share your AI summaries
Now it's time to choose where you want to share your AI-powered meeting summaries.
In Colibri, go to Settings > Integrations, and scroll down to Slack.
Under Choose a channel, click the dropdown menu to browse your Slack #channels or select @me to receive your AI summaries as direct messages. The selected channel will be saved automatically.



Note: Private channels won't appear in the dropdown list until you add the Colibri app to the channel. Add Colibri to a private channel by clicking the private channel's name at the top of the screen, then select the Integrations tab and click Add next to the Colibri app.


Using the Colibri app in Slack
Now when you record a meeting using Colibri, an AI-powered summary will appear in your Slack workspace right after the meeting.
AI summaries sent as direct messages will appear as DMs with the Colibri app.
Click Review the full recording and transcript in Colibri to view the meeting recording, transcript, and key highlights in your Colibri account.

Disabling the app
To disable the integration, go to Colibri Settings > Integrations and click Disconnect.
To remove the app from Slack completely, go to Colibri Settings > Integrations and click Remove the app.
Note: We use Large Language Models to generate AI summaries and next steps. While these models are advanced, they have limitations and may occasionally generate inaccurate or incorrect content. We encourage you to use your own judgment when making decisions based on AI-generated content.
Have more questions? Contact us at support@colibri.ai.