Get a live transcription of your online meetings, calls, virtual events, or any other audio from any web or desktop app.
Availability
Supported devices: Desktop & laptop computers (mobile devices are not supported)
Operating systems: Windows
Browser: Google Chrome
Language: English
Here is how to record and transcribe any audio or video in real time
1. How to set up audio recording
Log in to your Colibri account in Chrome.
Click + New meeting
Select Record any online meeting or event
Allow Colibri to use your microphone in the Chrome browser



Add a meeting title and participants' names to keep your transcripts organized. The participants' names will help Colibri to identify multiple speakers in the transcription after the meeting.



Select a microphone that will be used to record your voice

💡 Tip: If you don't want to record your voice, select Mute my mic. This can be useful for recording webinars or presentations that you join as a listener.


Click Record
Share your Entire screen if you want to record audio from a desktop app (e.g. Zoom, MS Teams). Share a Chrome Tab if you want to record audio from a web app (e.g. GoogleMeet, YouTube).
Share screen/tab audio by checking the Share audio

box in the lower left corner of the share popup.

Click Share


2. How to use Colibri during a meeting
Once you click the Share button, Colibri will start recording and transcribing your conversation. The Colibri real-time window will pop up automatically.
💡 Tip: If your browser blocks popups, click the Live transcription button in your Colibri workspace.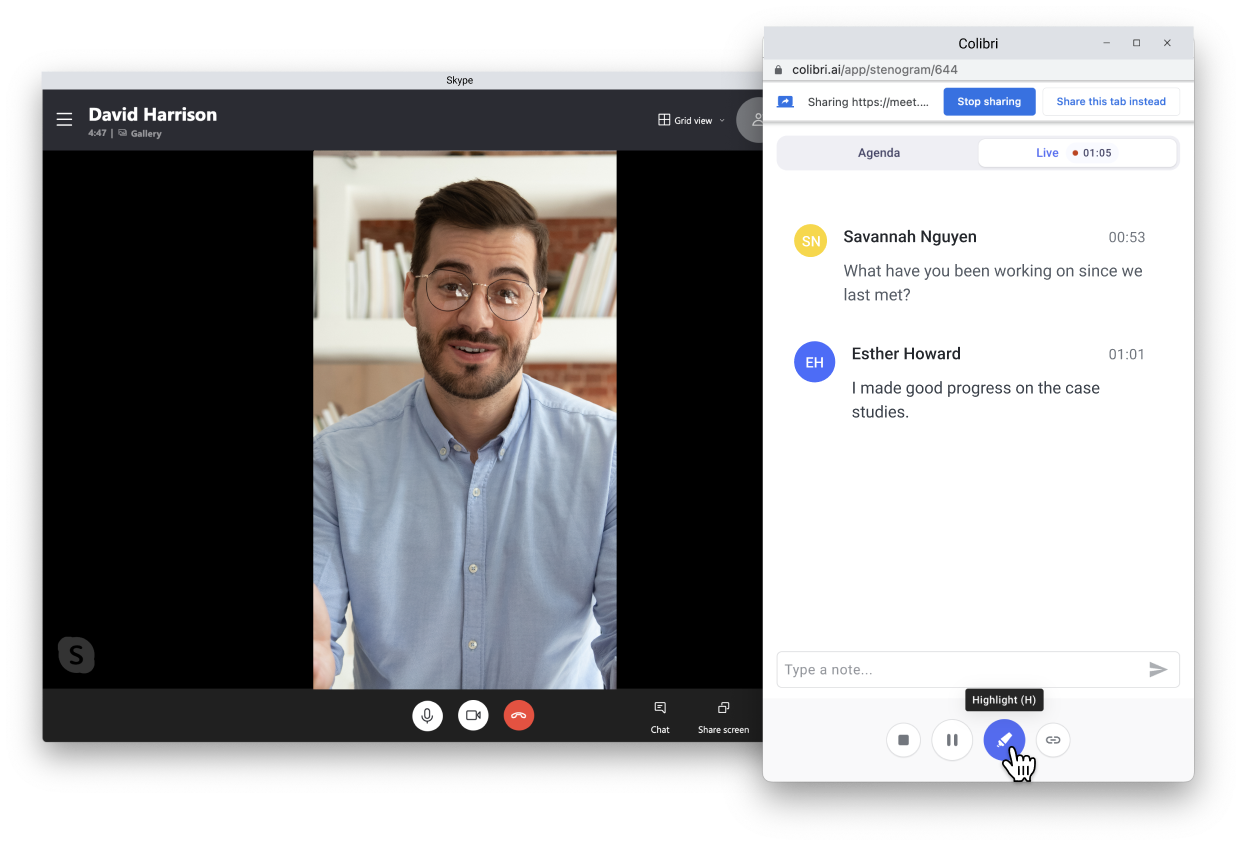 In the Live tab, you can view live transcription of the meeting.
In the Agenda tab, you can choose an agenda for the meeting.
Click the Highlight icon when you hear something notable to bookmark the moment and quickly review it after the meeting.
3. How to stop recording
To stop recording, click the Stop transcription button in the Colibri real-time window.

The meeting transcript, recording, and AI summary will then appear in your Colibri workspace where you'll be able to edit, export, and share it with others.
4. How to effortlessly move between meetings
If you have numerous back-to-back meetings or need to make calls in rapid succession, you can keep audio and mic sharing active after a meeting ends. This allows you to quickly begin recording the next meeting without repeating all the steps described above.
Go to Settings
Switch on the toggle next to Effortlessly Move Between Meetings
Click Save changes


Now when you click Stop transcription, Colibri will stop recording the current meeting but will keep audio sharing active. Don't close the Colibri real-time window.
Click Start transcription in the real-time window to start recording and transcribing your next meeting from the same app.

That's it. Happy meeting!
Have more questions? Contact us at support@colibri.ai.